Fort Worth is a hotbed for good eats. But now, with three great breweries in the area, it's about to get some notoriety for its great sips, as well. Below, you'll find more information about three of Fort Worth's breweries that you need to check out. Read ahead to learn more about Martin House Brewing Company, Pouring Glory, and Wild Acre Brewing Co.!

Martin House Brewing Company takes its name from the Purple Martin, an adventurous Texan bird that is known for its shared houses. Just like the Purple Martin, the founders of Martin House Brewing Company value fun and community and that's what kind of atmosphere they hope to create when people drink their beers.
They brew a wide range of year-round brews, seasonal, rarities and oddities. Keep it somewhat classic with a True Love Raspberry Sour Ale or Friday IPA. Or, branch out with a Micro-Seasonal Cookie Dough Stout or Rarity Cheer Wine Tart Cherry Wheat Wine.
Pouring Glory was conceptualized to be a place where you can get great food, great beer, and great company all in the same place. At this brewery, they offer more than 50 different beers from highly acclaimed breweries across the country.
Pick your brew and pair it with something delicious from their menu. Share some Mini Pretzel Fondue featuring smoked gouda bacon cheese fondue with your pals or chow down on one of their Pub Classics like the Veggie Dog Sandwich or Falafel Pita.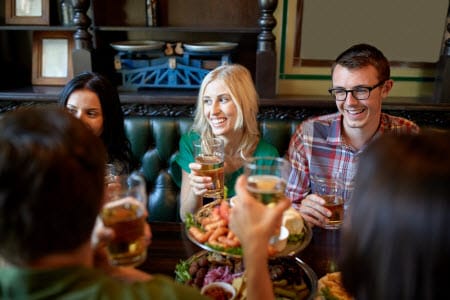 After spending 18 years in the beer distribution business, John Pritchett decided to take his love for beer to the next level. Wanting to flex his creativity, he founded Wild Acre Brewing Company in 2015 and created his own line of unique brews alongside a team of passionate hand-picked beer lovers.
Stop by their taproom to try one of the 24 brews they have on tap including their Soul Pleasure Southern Stout. But don't wait! This creative team is always thinking up new flavors to try so get to sipping before it's gone.
Enjoy Your Cold Brew!
Drink up at Martin House Brewing Company, Pouring Glory, and Wild Acre Brewing Co.!