When it comes to all-electric luxury SUVs, two big names come to mind: Audi and Tesla. In this comparison, our team at Audi Fort Worth will pit these two flagship all-electric models from these two popular brands to see which one reigns supreme.
Electric vehicle (EV) shoppers in the Fort Worth, Grand Prairie, and Arlington, TX, areas should read ahead to see whether the 2022 Audi e-tron or the 2022 Tesla Model X comes out on top.
All-Electric Performance: Audi vs. Tesla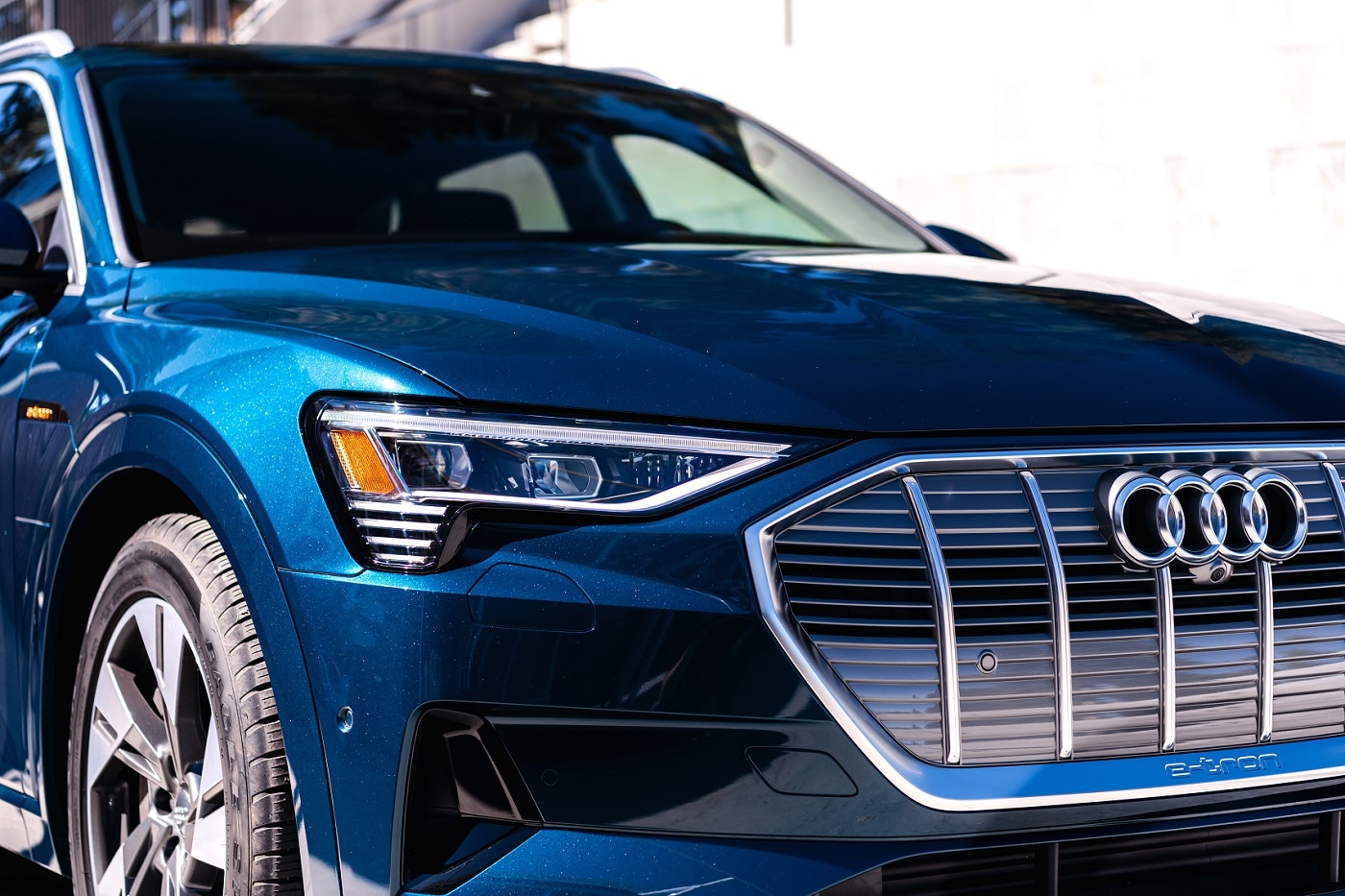 In terms of on-road performance, the Audi e-tron provides drivers with up to an EPA-estimated 222 miles per charge, which is plenty of range for a full week of commuting and weekend errands.1 The Tesla Model X as well offers hundreds of miles of range on a single charge.
While both electric SUVs have convenient charging options, only one of them delivers such an invigorating yet stable drive. Audi goes above and beyond once again with standard quattro® all-wheel drive, but it doesn't stop there.
The Audi e-tron also comes standard with an adaptive air suspension. By enhancing the e-tron's performance and control, these systems work together to make your rides smoother and more fun to navigate. Although the Tesla Model X comes with a standard all-wheel drive system, it lacks a similar suspension feature.
Audi e-tron vs. Tesla Model X: Design & Comfort
The 2022 Audi e-tron and 2022 Tesla Model X were designed with aerodynamics and style in mind. Sleek lines and rounded edges give the illusion of forward motion even when they're idling or parked.
The e-tron and Model X begin to differ, though, once you move inside the cabin. The Audi e-tron provides comfort for all with a standard 4-zone automatic climate control system, while Tesla only gives you three zones.
Furthermore, the Audi plays on its luxury roots with available individual contour front seats with ventilation and massage capabilities. While the Tesla gives you heated and ventilated seats, you can kiss massage capabilities goodbye when you opt for this brand.
In-Tune Technology Features: e-tron vs. Model X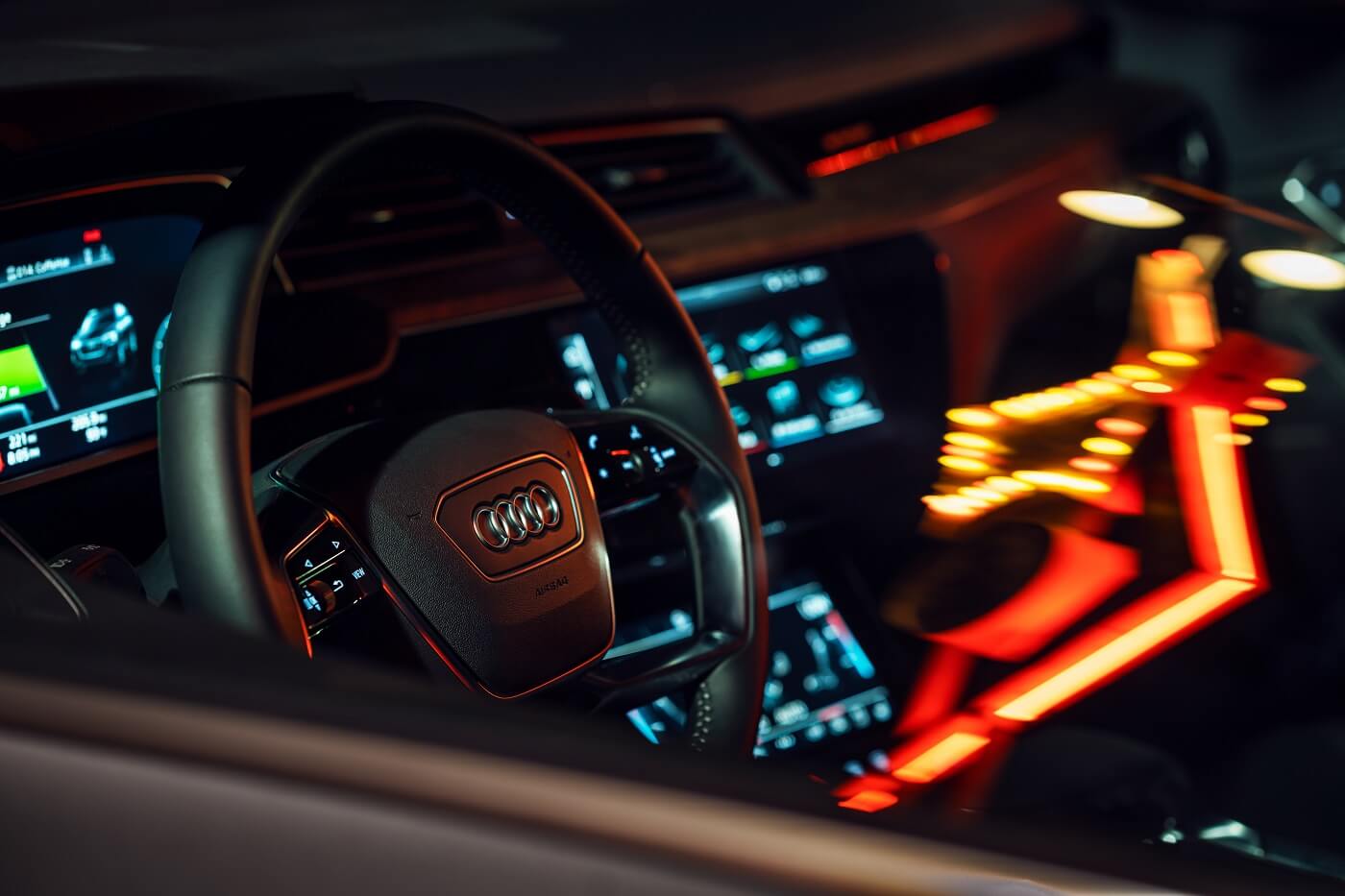 Both the 2022 Audi e-tron and the 2022 Tesla Model X give you a wide range of cutting-edge technology features to be excited about. In the Tesla, you'll get a large touchscreen display at the helm, while the e-tron provides several innovative screens you can interact with.
Both the standard MMI® Navigation plus with touch response infotainment system and Audi Virtual Cockpit plus give you:
Updates from your smartphone via wireless Apple CarPlay® and Android Auto™.
Turn-by-turn navigation on the dashboard via Google Earth™ maps.
A bird's-eye view of your surroundings via the available Top view camera system with Virtual 360° view.
The key disadvantage with the Tesla Model X is one of its biggest points in disguise: exclusivity. Tesla is so fixated on being unique that they've alienated both Apple and Android users with their lack of smartphone integration.
Audi e-tron vs. Tesla Model X: Which EV is Right for You?
There's no arguing with the coolness of the Tesla Model X with its massive infotainment display and Falcon Wing doors, but the convenience and comfort of the Audi e-tron is what separates it from the competition.
See for yourself what it is like driving the Audi e-tron by taking a test drive with us at Audi Fort Worth. We'll show you how this model will transform every trip you take through Fort Worth, Grand Prairie, and Arlington, Texas.
1 EPA estimated electric-only range for fully-electric cars in miles. Actual mileage and range will vary and depend on several factors including driving and charging habits, accessory use, temperature and topography, battery age, load, and vehicle condition. Battery capacity decreases with time and use. Your total range will vary and depends on several factors including your driving habits and vehicle condition. See owner's manual for details. - EPA estimated total range for plug-in hybrid cars in miles. Actual mileage and range will vary and depend on several factors including driving and charging habits, accessory use, temperature and topography, battery age, load, and vehicle condition. Battery capacity decreases with time and use. See owner's manual for details